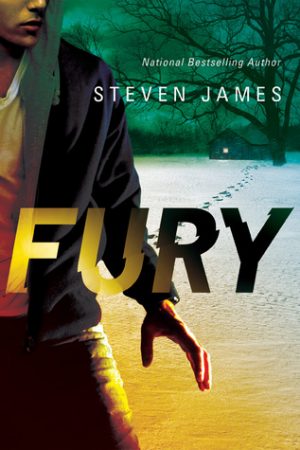 Title:

Fury

by Steven James
Series: Blur Trilogy #2
Also in this series:
Blur
,
Curse
Also by this author:
Blur
,
Curse
Published by
Skyscape
Released:
April 28th 2015
Genres:
Mysteries & Detective Stories
,
Paranormal
,
Suspense
,
Thriller
,
Young Adult
Length:
412
Format Read:
eARC
Links:
Goodreads
|
Amazon
|
Barnes & Noble
My Rating:

Disclosure: I received a complimentary copy of this book from NetGalley. This does not affect my opinion of the book in any shape or form.
The disturbing visions that helped Daniel Byers solve a deadly mystery have finally quieted, and the sixteen-year-old basketball star is looking forward to things settling back to normal. But when his father mysteriously disappears, Daniel realizes that the key to finding his dad rests in deciphering his chilling hallucinations. Soon, long-buried secrets begin to surface, revealing clues that could help him locate his father. But as the past collides with the present and reality begins to blur around him, Daniel faces a race against time to save his dad before it's too late. Filled with pulse-pounding suspense, Fury continues the thrilling young adult Blur Trilogy from bestselling author Steven James.
As I mentioned in my review of Blur, I loved it so much that halfway through it I went ahead and got Fury. I thought Blur was good, but Fury was even better. More action, more characters, and an even bigger mystery. Fury picks up a few months after solving the case of Emily Jackson's death. Daniel's blurs have all but disappeared, so he's getting back into his normal routine. With football season now over, Daniel's playing basketball. One day in English class he spaces out, then when he snaps out of it, he looks down at his notebook. In it he had written "Lost Cove is the key" over and over…but it wasn't in his own handwriting. Then later when on his way to a basketball game, he has another blur….and then another during his basketball game. In his blur he sees a child at a bard and hears her say "Madeline is waiting for you, Daniel". The child's nightgown then bursts into flames, leaving behind a blackened corpse. It looks like Daniel has another mystery to solve, but what's it all about this time? In a race against time, Daniel has to solve the mystery of the mysterious barn, who is poaching wolves, and locate his dad. From breaking out of an asylum to a near-death experience, Daniel has to figure everything out before it's too late.
I loved Blur, and while it wasn't lacking in anything, Fury was even better. Steven James knows how to tell an action packed story that keeps the reader continuously wanting more. More action, more thrills, and even more chills. Just like the first book in the trilogy, I couldn't put this one down, either. I sailed right through it from start to finish, wondering if Daniel would solve the mystery. His blur sensations are really interesting, but for the sake of review purposes I don't want to spoil to potential readers what the purpose of them is! The mystery in Fury is so compelling and unique, I loved every moment of it. I had to force myself to put the book down so I could take a break and attend to other things. If I had no other responsibilities I would have, without a doubt, read this in a single sitting.
The third (and unfortunately final) book in the trilogy, Curses, will be available in Spring 2016.
Related Posts