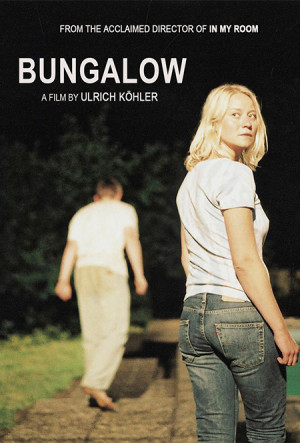 Title:
Bungalow
Released:
February 6, 2003 (Germany) | 2020 (USA Streaming)
Genres:
Drama
Length:
1 hour, 25 minutes
Links:
IMDB
|
Wikipedia
My Rating:

A major work of the celebrated Berlin School, the debut of Ulrich Köhler (In My Room) is a mesmerizing portrait of a young German soldier named Paul who goes AWOL and returns to his childhood home in the countryside. Over a few summer days, Paul evades the responsibilities of everyday life and falls in love with his brother's girlfriend, disrupting the lives of everyone in his circle. With Köhler's penchant for deadpan humor and subtle performances, Bungalow becomes a quiet mockery of militarism, familial estrangement, and youthful ennui.
Grasshopper Films has been on a roll lately with scooping up the rights to some excellent films, with this new 4K restoration of Bungalow being no exception. Up until now, I've never seen a German film, and after watching this, color me impressed with this directorial debut from Ulrich Köhler dating back to 2002.
The film begins with Paul (Lennie Burmeister) and some other soldiers stopping at a Burger King for a quick bite before going back on the road. Rather than departing the fast food joint with the other soldiers, Paul lingers behind and instead makes way to his childhood home, where his brother Max (Devid Striesow) resides, their parents being away on holiday. While home, Paul begins to fall for Max's girlfriend, Lene (Trine Dyrholm). Although she gently lets him down, Paul fumbles through the next few summer days as he continues with his attempts to make a move on her even though she rejects him. Even with Paul trying to make these moves, both Lene and Max partially cover for him while the army comes calling and knocking as he continues his shenanigans to evade going back to the life of a soldier.
What I enjoyed about the film is it captures the essence of a casual summer where you're just going with the flow. Paul may not know exactly what he's doing as he's navigating life at home, and yet with Paul's life in turmoil while on the run and dealing with relationship issues, he remains mostly calm. They reside in the countryside so you have the calmness of the landscape and the sereneness of the pool in their backyard, a frequent shot in the film, rather than the hustle and bustle of a city. Paul's in no hurry; there's no sense of urgency as he remains AWOL. Even with this slowness and idle time, the film itself doesn't feel slow. Instead, during the times of quiet, it's the subtleties of body language and actions of everyone that makes the film come together. Sometimes periods of silence is all you need to tell a story, and Bungalow excels there.
Related Posts