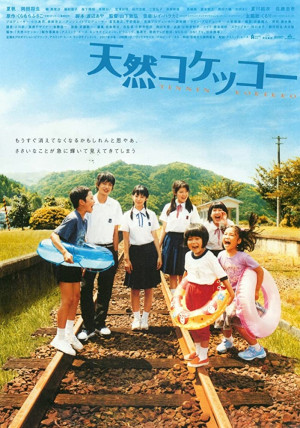 Title:
A Gentle Breeze in the Village (Tennen kokekkô)
Released:
2007
Genres:
Drama
,
Romance
Length:
2 hours, 1 minute
Links:
IMDB
|
Wikipedia
My Rating:

When eighth grade cool guy Hiromi transfers from Tokyo to a small elementary/middle school with only six kids enrolled, wholesome and honest Soyo becomes enthralled with his sophisticated world.
Usually, I'm one to enjoy films that are on the softer and more gentle side that slowly tell a story, so I was a little surprised upon watching A Gentle Breeze in the Village that I didn't care for it. It's rare for me to watch a Japanese film and not like it. Maybe part of it was I wasn't in the right mood or headspace for a film like that, but at the same time, I doubt it was that. I paused it throughout as I couldn't get into it never feeling all that interested.
The film is based on a fourteen volume manga that ran from 1994 to 2000, and to the best of my knowledge has not been translated to English for western audiences. The film opens with an introduction to the six children from a small village who are all enrolled in the same elementary and middle school today. One day a new guy, Hiromi appears in class and one girl in particular, Soyo, takes a distinct liking to him.
It's a little difficult to describe the plot. While there is somewhat of a main focus on the interactions between Hiromi and Soyo, at the same time it jumps around the different students and their interactions as a whole amongst each other and also their families. Nonetheless, the film seemed directionless to me. What exactly was the end goal? It felt more like a day-to-day where nothing interesting happened in their village other than brief interactions amongst one another.
The one thing I appreciated about the film at least was the location it was shot at. The scenery and landscape were terrific, especially at the beach the students went to one day.
Related Posts