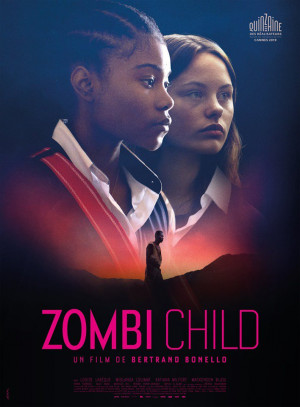 Title:
Zombi Child
Released:
June 12, 2019 (France) | 2020 (USA)
Length:
1 hour, 43 minutes
Links:
IMDB
|
Wikipedia
My Rating:

A man is brought back from the dead to work in the hell of sugar cane plantations. 55 years later, a Haitian teenager tells her friends her family secret - not suspecting that it will push one of them to commit the irreparable.
Zombi Child, from French director Bertrand Bonello is not a zombie film in the sense you are used to, and that's okay. I knew that going into this, and even then I am not one to watch "zombie" films that often. By the time I got to the end, however, I was left severely disappointed with what I had just watched.
The film is far from what it presents itself as in the trailer. The first seventy minutes do next to nothing for the story line and characters, it is filler. Nothing exciting happens. Only after getting two-thirds into the film does it pick up and the story is actually told, and things start to make sense.
The first two-thirds of the film jumps between contemporary France at an all-girls school and a man in 1960s Haiti, weaving between the two story lines of different characters: a group of girls who recruit Mélissa into their sorority, and a man in Haiti who does not speak, wandering the streets silently. Fanny, one of the girls in the group, finds out Mélissa's aunt practices voodoo, and seeks her out to use it to help her with a heartbreak. Only then does the story pick up and is actually explained in detail rather than various scenes of classes and the girls laying around with no real development and advancement to the story. I feel Zombi Child would have been better off as a short film rather than a full feature length that fails to be of much interest or offer much of anything of substance to the viewer. Once the plot picks up and everything is explained, it becomes better, but only for that final third of the film. The rest could be skipped and you wouldn't miss a thing. Even though the Clairvius Narcisse story is interesting, especially once I researched it more after viewing the film, I think I'll be sticking to regular zombie films for the time being rather than this different take on the subject.
Related Posts