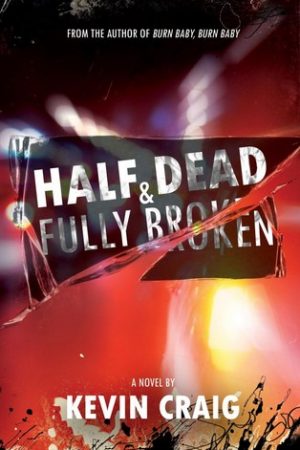 Title:

Half Dead & Fully Broken

by Kevin Craig
Published by
Curiosity Quills Press
Released:
January 19th 2015
Genres:
Contemporary
,
Family
,
Fantasy
,
Friendship
,
Paranormal
,
Suicide
,
Young Adult
Length:
206
Format Read:
eBook
Links:
Goodreads
|
Amazon
|
Barnes & Noble
|
ThriftBooks
My Rating:

Disclosure: I received a complimentary copy of this book from NetGalley. This does not affect my opinion of the book in any shape or form.
Carter Colby is the most unpopular teen at Jefferson High. This would be easier to deal with if his identical twin brother, Marcus, weren't the hottest, most popular boy in school.

When Marcus is killed in a motorcycle accident, Carter discovers the one thing more painful than trying to compete with Mr. Wonderful: wearing his dead brother's face. He felt invisible before the accident, but with Marcus dead, everybody turns away from him in mourning. How can he blame them? He can't bear to look in the mirror.

When Carter begins to see Marcus' ghost, Mr. Wonderful's quest to save the world and spread happiness may not be over after all, even in death. Marcus knows that Justin Dewar, the boy who drove the truck that crashed into his motorbike, is struggling with the guilt of taking a life. Melanie, Marcus' mourning girlfriend, was also hit hard by the tragedy. Marcus wants to make things right before it's too late.

With Marcus' help, Carter experiences love and friendship for the first time in his life. But is Mr. Wonderful's helping hand enough for Carter, Melanie, and Justin - three kids fully broken by the tragedy - to save one another?
This book had quite the interesting concept. Carter Colby and Marcus Colby are identical twins in high school. Marcus is popular. Colby is not. Colby's life changes greatly when Marcus is killed in a motorcycle accident. Marcus may be dead, but there's one problem: Carter has his face. You can imagine how much that complicates things for his both his family and Marcus's friends.
The book's title is what originally piqued my interest when I saw it listed on NetGalley, which let to me deciding that I'd give it a whirl after reading the synopsis. The book begins with Marcus getting killed in a motorcycle accident, so from the start I was hooked, reading further and further to find out how things play out. There was no initial filler at the start before the main conflict that sets the story's premises occurs.
While reading, it was interesting to observe how Carter, his family, and friends handled the passing of Marcus. I didn't expect some of the plot to play out the way it did, and I don't mean that as a bad thing. I don't want to spoil anything, but the relationship between two characters in this story was rather…interesting? :)
Kevin Craig has written several other young adult novels over the last several years, such as Burn Baby, Burn Baby, Sebastian's Poet, and The Reasons. A sequel to Half Dead & Fully Broken, titled Alive & Kicking, is currently in the works. I'm curious as to where the follow-up book will lead us, as this book had a very standalone feeling. Overall Half Dead & Fully Broken was well written, had a unique plot, and some interesting scenarios.
Related Posts