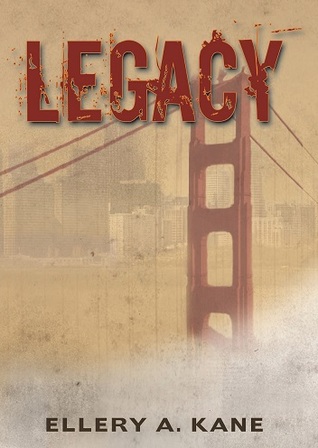 Title:

Legacy

by Ellery A. Kane
Published by
Balboa Press
Released:
September 5th 2014
Genres:
Action & Adventure
,
Fiction
,
Mystery & Detective
,
Science Fiction
Length:
254
Format Read:
Paperback
Links:
Goodreads
|
Amazon
|
Barnes & Noble
|
ThriftBooks
My Rating:

Disclosure: I received a complimentary copy of this book from Goodreads. This does not affect my opinion of the book in any shape or form.
How do you want to feel today?

In 2041, the choice is yours.

San Francisco is deserted, the Bay Bridge bombed, and the BART subway trains grounded. The Guardians, members of an elite and mysterious government-appointed military police force, are maintaining order at all costs—thanks to emotion-altering drugs like Emovere that suppress fear and anxiety. Lex Knightley, daughter of a prominent forensic psychiatrist, risks entering the devastated city to partner with the Resistance, a group of rebels intent upon exposing the dangers of Emovere. Lex discovers an ally in Quin McAllister, a magnetic Guardian Force recruit with a haunting past that binds them together. As she uncovers the secrets of the Guardian Force and confronts the truth about her family, Lex begins to realize that even those closest to her are not quite who they seem.
Legacy by Ellery Kane was a great read, I couldn't put it down even though I had a big pile of school work to get to. I kept reading further and further, wondering if Lex was going to make it and if Quin was going to be alright.
The story takes place in 2041, where emotion-altering drugs like Emovere have taken over society. San Francisco, once populated by many, is now deserted. There are two sides: Guardians, a government-appointed military police force set to maintain order, and the Resistance, those who fight back. Lex's mother drops her off at the outskirts of San Francisco with a flash drive she has to deliver. Once she finds the Resistance she takes a liking to Quin McAllister, a former Guardian Force member turned good. His past holds a lot of secrets that haunt him and make him push Lex away. Can the two of them, along with the rest of the Resistance, expose both the dangers of Emovere and corruption of the Guardians without losing one of their own?
After finishing this book I took a look at some other reviews, and one detail many people point out that I totally agree with is that it's hard to tell that Legacy is Ellery's first book. The plot was hooking, sentence flow was mostly good, and sentences were nice and descriptive. I do kind of feel as if in the beginning there were a few sentences with commas that didn't need them, but hey, I'm no English teacher. I also feel like a few times the book mentioned Lex's jealousy of Quin a few times in a really short period, but again, it's minor stuff and not a big deal. Nothing jumped out at me as bad, downright wrong, or just flat out of place in the book, so that's a sign it's very well written. I also find it neat that Ellery (the author) made Lex's mother similar to herself – they both evaluate criminals and live around San Francisco. Excluding the epilogue, I feel that the final sentence of this story is perfect.
Overall, it was a fun and thrilling dystopian story. I know some people have mixed feelings about dystopian stories since they're all the rage nowadays, but I would say that this is one worth reading. Believe it or not, I was more motivated to read this book than Divergent, so I think that's a good way to put into perspective how interesting and hooking Legacy is. My copy of this book came with a little plastic card containing a code to give to a friend so they can download the ebook for free. Cool stuff! Looking forward to the sequel!
Related Posts