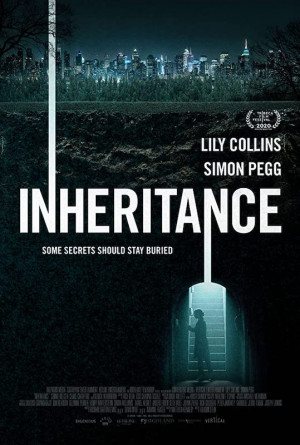 Title:
Inheritance
Released:
May 22, 2020
Genres:
Drama
,
Mystery
,
Thriller
Length:
1 hour, 51 minutes
Links:
IMDB
My Rating:

Lauren Monroe is a rising young New York City District Attorney and the successful daughter of a powerful New York family steeped in old-money wealth and privilege. When her father suddenly dies, she is given a set of keys to an unknown bomb shelter on their estate as her inheritance instead of access to the family fortune. There she discovers a secret buried so deep that not even her mother knew about it... a man barely alive, locked and chained in captivity for years on the grounds of their estate. Lauren makes the fateful decision to keep the discovery a secret in the hope that she can uncover the truth while managing her own life, her brother's impending election campaign, and avoiding destroying her family name.
Although its plot is a bit farfetched, Inheritance, the first feature length film from screenwriter Matthew Kennedy, makes a good story. One day when out and about in New York City, Archer Monroe (Patrick Warburton) passes away suddenly. He's the father of a political family: his son William (Chace Crawford) is a politician running for re-election, and his daughter Lauren (Lily Collins) is a Manhattan District Attorney. She's always felt that her father likes her brother, which is only solidified when Archer leaves William $20 million and Lauren "only" $1 Million in her will. After the will has been read, their family attorney Harold (Michael Beach) privately tells Lauren there's one more thing, something just for her. It's a USB drive with a video from her father containing cryptic information only she would understand. The video was made in case he happened to pass before he mustered the courage to tell her everything in person.
It turns out, there is more to Lauren's $1 Million in inheritance. She also inherited someone's life, a prisoner (Simon Pegg) her father has had locked up in an underground bunker for 30 years and kept a secret to everyone. Only her father and now her know about this. Everyone will agree that having someone locked up in an underground bunker, in shackles, and kept in mostly darkness for 30 years is an unlikely scenario. I have to agree with that. Maybe if the scriptwriter and director toned it down to ten years it would've been a bit more believable, but nonetheless, it's just a movie. Looking at other reviews on this film, it sounds like the farfetchedness of this is a major hangup for a lot of people, but I brushed it off. Yes, it's not all that believable, but I was still intrigued by the story of who this mysterious crazy man is that her father has had locked up for three decades and why — not to mention why he's constantly reciting a key lime pie recipe.
As the film goes on Lily battles with her inner self, figuring out what she should do. Should she believe everything that this man is telling her and set her free? Why should she believe him? But how does he know so much? Should she keep him locked up and continue leaving him there as her father has? Between her being a district attorney and her brother being a politician already caught up in a supposed scandal, the last thing her family needs is skeletons coming out of the closet.
While not the most complex of film storylines, Inheritance excels at its pacing and Simon Pegg especially delivered a great performance as the crazy prisoner locked underground for decades. For the nearly two-hour runtime it clocks in at, I was entertained and found the film thrilling enough even with its unlikely plot. It sure beats watching a Lifetime thriller that recycles the same plot recipe every time.
Related Posts