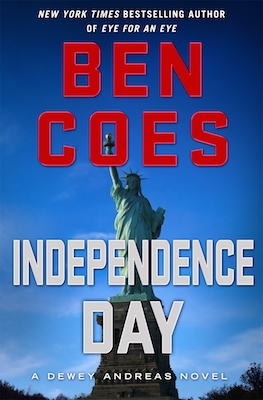 Title:

Independence Day

by Ben Coes
Series: Dewey Andreas #5
Published by
St. Martin's Press
Released:
May 26th 2015
Genres:
Fiction
,
Military
,
Political
,
Thriller
Length:
512
Format Read:
ARC
Links:
Goodreads
|
Amazon
|
Barnes & Noble
|
ThriftBooks
My Rating:

Disclosure: I received a complimentary copy of this book from Goodreads. This does not affect my opinion of the book in any shape or form.
Dewey Andreas, former Delta and newly recruited intelligence agent, is sidelined after screwing up his last two operations. Still drowning in grief after the tragic murder of his fiancé, Dewey has seemingly lost his focus, his edge, and the confidence of his superiors. A high level Russian hacker, known only as Cloud, is believed to be routing large amounts of money to various Al Qaeda terror cells, and the mission is to capture and render harmless Cloud. At the same time, a back-up team is sent after the only known associate of Cloud, a ballerina believed to be his girlfriend. Unwilling to sit out the mission as ordered, Dewey defies his superiors, and goes rogue, surreptitiously following and tracking the two teams. What should be a pair of simple snatch and grab operations, goes horribly wrong--both teams are ambushed and wiped out. Only through the unexpected intervention of Dewey does the ballerina survive. On the run, with no back-up, Cloud's girlfriend reveals a shocking secret--a plot so audacious and deadly that their masterminds behind it would risk anything and kill anybody to prevent its exposure. It's a plot that, in less than three days, will completely remake the world's political landscape and put at risk every single person in the Western world. With only three days left, Dewey Andreas must unravel and stop this plot or see everything destroyed. A plot that goes live on July 4th--Independence Day.
Independence Day is the fifth novel in the action packed Dewey Andreas series by Ben Coes. Andreas is a Delta agent turned intelligence agent. Even though he's been sidelined for the time being, Dewey Andreas defies orders and makes his way to Russia under the nose of the CIA, as there is a notorious Russian hacker named Cloud. Cloud has acquired a nuclear bomb and is attempting to move it overseas to the United States in time for an Independence Day bombing, all without raising suspicion. Will Cloud be able to successfully execute his master plan on the United States and cause "nine/twelve", as it's being dubbed?
While there may be five books in the Dewey Andreas series, this is the only one I have read. But after reading this one, I'll definitely be reading the previous parts of the series. In the beginning of Independence Day there are a few references to past events that took place in previous novels, however it can still very easily be read standalone.
Cloud is quite the black hat hacker: not only has he hacked into numerous banks and organizations, but he's even backdoored his way into the CIA's system. Not only that, but it's rumored that he took part in altering traffic control's systems on 9/11. He's a criminal mastermind and only a few people know him, such as his girlfriend, the famous Russian ballerina Katya – who has no clue about his dark side.
Dewey, on the other hand, refuses to sit on the sidelines and be treated for PTSD, which developed from his past missions. He wants to get back in the game at all costs even with his superiors telling him no. After all, who'd want to sit around and doing nothing when their country is going to be attacked in just a few days time? It's personal for Dewey. Can you really blame him for blatantly defying orders?
Independence Day is one of the most action packed thrillers I have ever read, if not the most action packed one. Coes writes such a thrilling and realistic (not that you'd ever want such a terroristic plot to happen, but it's definitely not too far fetched) atmosphere that I couldn't turn the pages fast enough, and before I knew it I had read all 500 pages in just over two days. The novel's length may be long, but there's not a single moment that felt slow, bland, or unneeded. It was very suspenseful from both sides: the agents hunting down the bad guys and the bad guys who are trying to execute their plan with minimal meddling from the United States government. Coes delivered yet another fantastic novel with several highly unanticipated plot twists, all making the story even more thrilling.
Related Posts