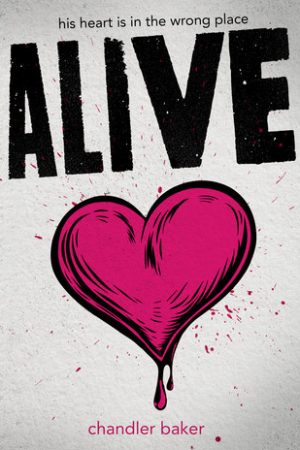 Title:

Alive

by Chandler Baker
Published by
Disney-Hyperion
Released:
June 9th 2015
Genres:
Love & Romance
,
Mystery
,
Paranormal
,
Supernatural
,
Young Adult
Length:
368
Format Read:
eARC
Links:
Goodreads
|
Amazon
|
Barnes & Noble
|
ThriftBooks
My Rating:

Disclosure: I received a complimentary copy of this book from NetGalley. This does not affect my opinion of the book in any shape or form.
Stella Cross's heart is poisoned. After years on the transplant waiting list, she's running out of hope that she'll ever see her eighteenth birthday. Then, miraculously, Stella receives the transplant she needs to survive. Determined to embrace everything she came so close to losing, Stella throws herself into her new life. But her recovery is marred with strange side effects: Nightmares. Hallucinations. A recurring pain that flares every day at the exact same moment. Then Stella meets Levi Zin, the new boy on everyone's radar at her Seattle prep school. Stella has never felt more drawn to anyone in her life, and soon she and Levi can barely stand to be apart. Stella is convinced that Levi is her soul mate. Why else would she literally ache for him when they are apart? After all, the heart never lies...does it?
Alive is the young adult debut novel by Chandler Baker. The story begins with seventeen year old Stella Cross, who is about to undergo a heart transplant. She was lucky enough to have a donor before it was too late. The transplant is a success, and luckily for her there is no transplant rejection. So now she can go back to living a (somewhat) normal teenage light, right? Wrong. After the life saving operation she's faced with immense pain at exactly 5:08 every day. Not only that, but she'll also hallucinate and have nightmares from time to time. The hallucinations are realistic, that she swears they're real and freaks out whenever one occurs.
One day in class, once she's back in school after the operation, a new student arrives: Levi Zin. She instantly falls head over heels for him, and they have an instant connection. She ignores all her friends, including her best friend Henry, who recently admitted that he really likes her. When she's not with Levi her heart will literally ache for him. You might say she's obsessed. She is.
That's the story line for the first two third of the book. The transplant, Stella's recovery period, and then the introduction of Levi at school. The story then follows her and Levi as they hang out at concerts and parties, make out, and even obsess over each other, instantly becoming jealous when someone else talks to their significant other. The first 60% of the book was "meh" to me. I knew romance was involved, but I felt it was really repetitive in nature, constantly conveying how Stella missed and ached for Levi. How he smelled nice, how he made her feel better when he's around, and how she was in complete love with him, choosing him over her longtime friends. At least I could relate to Stella with the fact that I've been out of school for long periods of time due to illness, albeit a different issue. And I did enjoy Stella's many sarcastic responses!
I don't like leaving books unfinished, so I continued onward with this one despite my "meh" feeling for over the first half of the book. I felt that Alive had more potential than just being romance, since the synopsis and genre classification didn't pinpoint it to be *just* romance. If it was a strictly romantic novel I wouldn't have read it, since that's not my thing. Romance intertwined in a story is fine with me, though. I just dislike when it gets really repetitive, which I feel that this story encompasses.
Luckily though, 65% into the book is where things finally get interesting and the whole paranormal/mystery aspect comes into play. Having the rising action and thrilling part of a book begin that late is quite too far into a story for my liking. Usually the action in a book begins no later than, say, 30-45% in after the elements of a story's plot are revealed.
Obviously I'm not going to spoil what happens at the 65% mark, but I couldn't put the book down after I reached that point. Up until that spot however, it would have been a three star rating from me. The action and mystery that became apparent late into the book hooked me enough and made up for the repetitiveness of Stella's feelings for Levi and has now bumped up my rating to four out of five stars.
Overall, I did like the book. It just took a while until I was truly immersed into the story due to the very late start on the plot twists and the main conflict/mystery/action began.
Related Posts