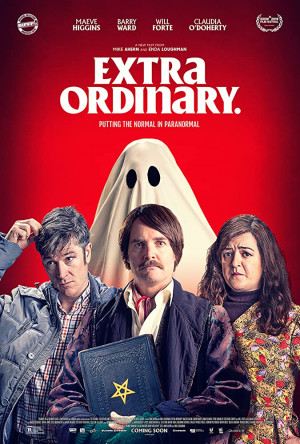 Title:
Extra Ordinary
Released:
September 13, 2019 (Ireland) | March 6, 2020 (USA)
Length:
1 hour, 34 minutes
Links:
IMDB
|
Wikipedia
My Rating:

Rose, a mostly sweet and lonely Irish driving instructor, must use her supernatural talents to save the daughter of Martin (also mostly sweet and lonely) from a washed-up rock star who is using her in a Satanic pact to reignite his fame.
After the last film I saw was rather bland, I was hoping Extra Ordinary to  be a double whammy of film disappointments, but was still unsure of what to expect. It's a title I stumbled across on IMDB last fall, but was not available to watch stateside at the time. After a small theatrical run earlier this year shortly before COVID-19 closures, Kino Lorber is now streaming it.
The film starts pretty normal, but does manage to slip in humor in the opening scene, which is how I knew it was going to be an interesting one. Rose (Maeve Higgins) is a driving instructor. When she was much younger she was her father's partner in a paranormal business where they used spells to help spirits move on to the afterlife. After it goes wrong one day and she loses her father, Rose swore aware from it all, though people still call her all the time asking for help.
Enter Martin Martin (Barry Ward) — and yes, that's his real name. His wife Bonnie passed away several years ago continues to lurk in the house. Martin's daughter Sarah (Emma Coleman) tells him he has to do something, and leaves Rose's driving school card laying around for him — clearly, she has a reputation. He gives a call, pretending he can't drive, and books a lesson in hopes of talking to her. Rose winds up developing a crush on him.
Enter the final two main characters, Christian Winter (Barry Ward), and also his wife Claudia (Claudia O'Doherty), who is unfortunately looped into his crazy plan. Christian is a one-hit-wonder who needs to sacrifice a virgin to gain his popularity back in the music world. He had a virgin before, but his wife wound up ruining it for him and causing her to explode. Needing a new virgin to replace his exploded one just in time for the ritual, he stumbles across Sarah, Martin's daughter, and invokes her, causing her to float in the air and become motionless while he preps. In a panic Martin calls up Rose, asking for her help. Partially influenced by her infatuation with him, she drops everything and goes to his house to help Martin get his daughter Rose back to normal before Christian can sacrifice her, but she can't do it alone.
While I never wrote a review on it, the plot reminds me of another film I saw last year, Satanic Panic, which also involves a hunt for a virgin. However, Extra Ordinary is a lot more fun and witty. There are so many little one-liners that come out of the character's mouths when least expected it, sex jokes included, and the deadpan delivery makes it that much better. The film also embraces the weird: even the absurdity of Christian Winter and his wife is made evident through their acting, almost in a self-aware parody kind of way. Even with the humor and quirkiness of the characters throughout the film, it never feels out of place, as the film always stays true to the main plot of Rose and Martin working together to help Sarah back to normal before she's sacrificed.
Related Posts