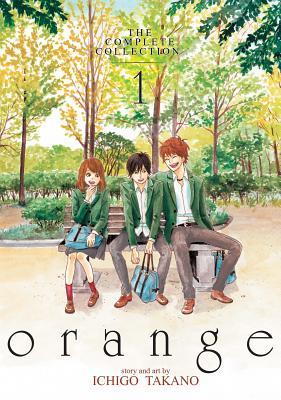 Title:

Orange: The Complete Collection #1 & #2

by Ichigo Takano
Series: Orange
Published by
Seven Seas
Released:
January 26, 2016
Genres:
Comics & Graphic Novels
,
Manga
,
Romance
,
Science Fiction
,
Young Adult
Length:
384 * 2
Format Read:
Paperback
Links:
Goodreads
|
Amazon
|
Barnes & Noble
|
ThriftBooks
My Rating:

A Plea From the Future

On the day that Naho begins 11th grade, she recieves a letter from herself ten years in the future. At first, she writes it off as a prank, but as the letter's predictions come true one by one Naho realizes that the letter might be the real deal. Her future self tells Naho that a new transfer student, a boy named Kakeru, will soon join her class. The letter begs Naho to watch over him, saying that only Naho can save Kakeru from a terrible future. Who is this mystery boy, and can Naho save him from his destiny? The heart-wrenching sci-fi romance that has over million copies in print in Japan!
Back in April I picked up the first half of the Orange manga series as I spotted it in Barnes & Noble and it sounded highly interesting, and now that I've read both books in the complete Orange collection series I can certainly say I was pleased by this manga and am looking forward to watching the anime adaptation that is currently airing in Japan.
On the first day of 11th grade Naho receives a letter that is supposedly from her 10 years in the future. She's skeptical at first, but because it outlines what will happen on certain days, it's obvious that the letter is no joke and indeed the real deal. The letter states that a new transfer student, Kakeru, needs saving from what will happen in the future if she doesn't intervene, and if she fails she will carry this burden the rest of her life.
We all have regrets. Some are big, are some small, but at the end of the day we all carry the burden of them if we cannot let the regret go. This book heavily relies on and makes use of different feelings such as loneliness, sadness, happiness, and also regret, and between it all Orange will really suck you in as you read on to see if Naho and her friends can save Kakeru from his deadly future.
The manga's synopsis calls it a sci-fi romance, and while that is true, there isn't that much sci-fi in it. The only sci-fi in it is the letters from the future arriving at Naho's house, meaning that somehow they time traveled to her. The book also jumps ahead to ten years later throughout the story and shows the effects Kakeru's deadly future has on Naho and her friend group. I wish I could be a bit more specific about the deadly future but it'd be spoiling it! There is plenty of romance in the book, but nothing over the top. Naho, Kakeru, Hiroto, Takako, Saho, and Azusa are such a great group of friends and are with each other through thick and thin no matter what. It's great seeing them all be so supportive and friendly to Kakeru, and I couldn't have wished for better characters. Orange is one of my all time favorite mangas for sure.
There's only one thing I disliked about Orange, and that was the ending of the second half. I was happy with how it ended, but it was just so abrupt. The final words of the story were great, but the abrupt ending just made the final moments feel "meh" to me. I honestly did not even know I was at the end, since the final 100-150 pages make up an unrelated manga by Ichigo Takano – so I thought I had way more to read, but I turned the page and surprise, nope, that's all there was to Orange. Boo.
Related Posts