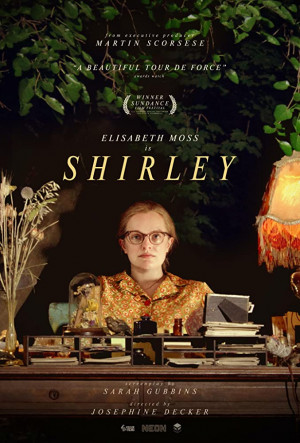 Title:
Shirley
Released:
June 5, 2020
Genres:
Drama
,
Thriller
Length:
1 hour, 47 minutes
Links:
IMDB
|
Wikipedia
My Rating:

Renowned horror writer Shirley Jackson is on the precipice of writing her masterpiece when the arrival of newlyweds upends her meticulous routine and heightens tensions in her already tempestuous relationship with her philandering husband. The middle-aged couple, prone to ruthless barbs and copious afternoon cocktails, begins to toy mercilessly with the naïve young couple at their door.
After watching a film, one thing I like to do is do a little research on it as typically there's something I'll learn. It could be something simple such as finding out it's based on a novel, it could be that the film is an adaptation of another film, it could be information about what went into making the film, anything really. With Shirley I learned in the credits that it's adapted from a novel of the same name, but it gets even deeper than that: the novel is a homage to a real person. That person would be Shirley Jackson, who is known for her works of horror and mystery, consisting of several novels and many short stories. Admittedly, I've yet to read any of her works.
With that backstory laid out: Shirley is based on the homage novel from author Susan Scarf Merrell, creating a fictional story surrounding Shirley Jackson as she works on her next novel. The film opens with newlywed couple Rose and Fred Nemser (Odessa Young and Logan Lerman) arriving at the house of Shirley Jackson (Elisabeth Moss) and her husband Stanley (Michael Stuhlbarg). Fred was invited by Stanley to guest lecture at Bennington College where he's a professor. However, Stanley asks the couple for a favor: that they help keep the house tidy and that Rose keeps an eye over Shirley to make sure she gets her writing done. With Fred and Stanley often out of the house and busy at the school, most of the onus falls on Rose. Slowly the two women befriend one another and start to have a trusting relationship, with the lines feeling blurred at times with their new-founded friendship and ideas.
While Rose and Shirley appear to be getting along, at least for the most part, there are times Shirley will lash out, plus Stanley is happily stringing Fred along with his work. With the film's slightly dark and baleful undertone, one can't help but wonder if there is a deeper and darker motive to come down the road as Shirley and Stanley continue to toy with the young and naïve couple. Nonetheless, Shirley is able to find much-needed inspiration for her novel through all the antics aimed at Fred and Rose.
Even though I went into this film knowing nothing about Shirley Jackson, that doesn't matter to the viewer on the other side of the screen. It tells the interesting tale of an author writing a novel inspired by the disappearance of a local college student and given the film's hints at a darker undertone in its way of storytelling and camera work, you can't help but wonder if that inspiration is only inspiration or something a little more dark and sinister. Its satire, darkness, and mocking tones spread throughout the film make for an interesting story with feelings of disquietness mixed in as it brings the viewer into the madness of Shirley and Stanley's world.
Related Posts