This book may be unsuitable for people under 18 years of age due to its use of sexual content, drug and alcohol use, and/or violence.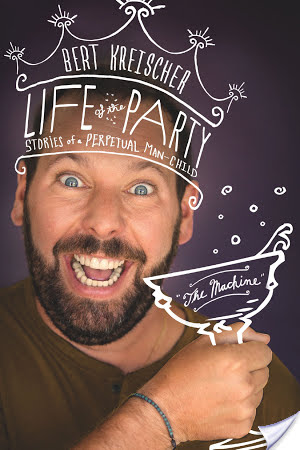 Title:

Life of the Party

by Bert Kreischer
Published by
Macmillan
Released:
May 27th 2014
Genres:
Biography & Autobiography
,
Essays
,
Humor
,
Personal Memoirs
Length:
256
Format Read:
Hardcover
Links:
Goodreads
|
Amazon
|
Barnes & Noble
|
ThriftBooks
My Rating:

A collection of outrageous stories by the standup comic, TV host, and inspiration for the movie National Lampoon's Van WilderBert Kreischer doesn't know how to say "no." If he did, he wouldn't have gotten himself mixed up with a group of Russian mobsters on a class trip to Moscow, earning him his nickname: "The Machine." He wouldn't have wrestled with a bear or swum with sharks on national television. He wouldn't have (possibly) smoked PCP with a star of Saturday Night Live. And he wouldn't have been named the Number One Partier in the Nation by Rolling Stone, inspired the movie National Lampoon's Van Wilder, or performed standup to sellout crowds across the country. The stories Kreischer shares in Life of the Party are a guidebook on how not to grow up. From his fraternity days at Florida State University, to his rise as a standup, to his marriage and first brushes with fatherhood, Kreischer shows you a path that may not lead you to maturity or personal growth. But it will lead you to a shitload of fun.
When a book's first sentence is "Bong hits are like strippers: they're best when shared with a group of friends.", you know you're in for a wild ride.
I've seen Bert Kreischer on the History Channel before (If you've read this you'll get my joke) and somehow, I'm not really sure exactly, I stumbled across this memoir of his. Personally, I found his stories hilarious. While none of these activities he describes or choices he's made I would personally engage in, his way of telling the stories was amusing and filled me with constant laughter.
My favorite story in this memoir has to do with the first time Bert felt up a girl, back in seventh grade. Here's the excerpt:
The first time I ever felt up a girl was in seventh-grade study hall, in front of three other classmates, two of whom were girls. It was Truth or Dare, and I was dared to feel up Gwen Cohen. She giggled, I giggled, and the others looked at me as if I were holden a golden tit. I walked out of that classroom a man. A few minutes later I realized that my sexual conquest wasn't so much a conquest as it was a forfeiture of land. Gwen had been dared to let me fee her up and I had been dared to do it. I was no god, more a false prophet. Still, it was an amazing fodder for middle-school gossip. By the end of the day, everyone, including my teachers, knew what happened. I watched my newfound manhood turn into boyhood humiliation as they told my mom in the parking lot while I waited in the car. Needless to say that was the longest ride home ever.
Other funny highlights include using World War II to describe a sexual conquest ("I felt like a World War II soldier dropped on Omaha Beach without ever having seen either combat training…or a beach"), and his wife taking Xanax and downing a pitcher of margaritas not realizing she was pregnant (the doctor said that as long as it's not a lifestyle type of thing the baby will be fine). There's also a great story towards the end about Bert's honeymoon with his life LeAnn.
I'm not one to read many memoirs, but as I read more in the years to come I'm sure this one will stick out as the most humorous. (as well as most inappropriate/not safe for work!)
Related Posts