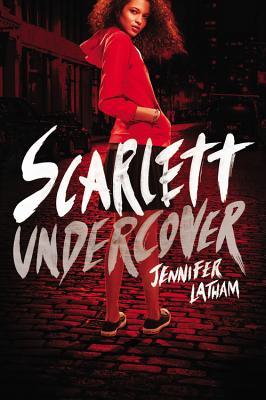 Title:

Scarlett Undercover

by Jennifer Latham
Published by
Little, Brown Books for Young Readers
Released:
May 19th 2015
Genres:
Fantasy
,
Love & Romance
,
Mystery & Detective
,
Young Adult
Length:
320
Format Read:
eARC
Links:
Goodreads
|
Amazon
|
Barnes & Noble
|
ThriftBooks
My Rating:

Disclosure: I received a complimentary copy of this book from Goodreads. This does not affect my opinion of the book in any shape or form.
Meet Scarlett, a smart, sarcastic fifteen-year-old, ready to take on crime in her hometown. When Scarlett agrees to investigate a local boy's suicide, she figures she's in for an easy case and a quick buck. But it doesn't take long for suicide to start looking a lot like murder. As Scarlett finds herself deep in a world of cults, curses, and the seemingly supernatural, she discovers that her own family secrets may have more to do with the situation than she thinks...and that cracking the case could lead to solving her father's murder. Jennifer Latham delivers a compelling story and a character to remember in this one-of-a-kind debut novel.
Scarlett is a fifteen-year-old undercover detective, which keeps herself out of trouble. Her and her older sister Reem are orphans, as their mother died of cancer and their father was murdered. This time, however it seems like trouble has found her. After Gemma, a nine year old girl approaches Scarlett and asks her to investigate whether a local suicide was orchestrated by someone else, she finds herself being followed by two people, and from there things only get worse. The further she digs, the more she finds: a mysterious cult, an ancient relic, and a family secret.
When I was younger I read countless Hardy Boy books. I love mysteries. I also love archaeology, which Scarlett Undercover sort of has a pinch of due to the ancient relic. So the story was right up my alley. To me, I'd explain the book as a fusion of Nancy Drew with a slight pinch of Children of the Lamp and Percy Jackson due to the mythology and fantasy in the plot.
People have been loving all the diversity found in young adult books lately: African American characters, female characters, characters of another religion, LGBT characters, characters with mental illnesses, you name it. Scarlett Undercover is another great book with diversity, as Scarlett is a very intelligent girl and she's muslim. Don't let the religion scare you away from the book, though, it's just who she is in the book – there's no religious agenda being forced upon the reader in the book.
This is Jennifer Latham's debut novel, and it couldn't have been better. It takes place in the fictional town of Las Almas. It's got a bit of a noir influence, opening up with Gemma trying her best to recruit Scarlett to investigate on whether the local suicide was just a suicide. There was lots of action, an interesting mystery, and Scarlett is a great character. I really hope there are future books starring her.
Related Posts