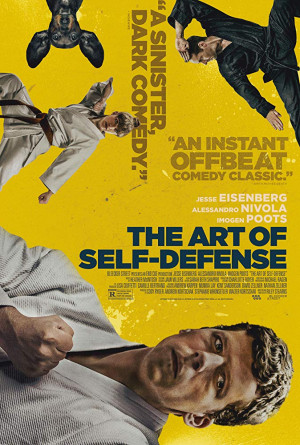 Title:
The Art of Self-Defense
Released:
July 12, 2019
Genres:
Comedy
,
Drama
,
Sport
Length:
1 hour, 44 minutes
Links:
IMDB
|
Wikipedia
My Rating:
A man is attacked at random on the street. He enlists at a local dojo, led by a charismatic and mysterious sensei, in an effort to learn how to defend himself.
Casey Davies (Jesse Eisenberg) is not a very tough guy. He's awkward and shy, mild mannered and keeps to himself since he doesn't fit in with the other guys at work. He' used to being told his name is very feminine sounding. One night after work Casey Davies realizes he is out of food for his dachshund, so he walks to the store to pick some up. On his walk back he's beaten by a group of bikers and left in the street. After being attacked, he goes to buy a gun, something that "can fit into my hand"…or in terms everyone but Casey knows, a handgun. Ultimately, he decides on karate so he can defend himself. However, after a few classes, he realizes there is more to Sensei and his dojo.
At face value, the film doesn't seem too dark since you have a guy looking to defend himself after an attack, but if you watch the trailer you'll see that it does take on a darker tone as the film progresses, one you may not necessarily see coming.
Within the first two minutes of the film it already had the theater laughing at its humor. At least every five minutes the theater was laughing at the film's with perfectly delivered dialogue, sometimes when you don't even expect it since it's so deadpan. There's even little details that made me chuckle, for example Casey adding a photo of his deceased dog on the wall next to the photo of the previously deceased dojo master.
Between all the laughs the film delivered, and overall being a fun film, this is one I recommend you watch if you have the opportunity since it's so hilarious. Heck, I'd even watch it again. The trailer does show off a few of the funny moments but there are more left to be seen in the theater.
Related Posts