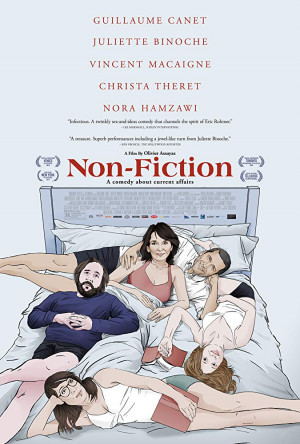 Title:
Non-Fiction (2018)
Released:
January 16, 2019 (France), May 3, 2019 (USA)
Genres:
Comedy
,
Drama
,
Romance
Length:
1 hour, 48 minutes
Links:
IMDB
|
Wikipedia
My Rating:

Alain is in his 40s and runs a famous publishing house which publishes novels by his friend Léonard, a bohemian writer. Alain's wife, Selena, is the star of a popular TV series and Léonard's companion, Valérie, is the devoted assistant of a political figure. Although they are longtime friends, Alain is about to turn down Léonard's new manuscript, complicating the relationship between the two couples.
Non-Fiction, or Doubles vies as it's called in its native country of France, is a film taking place in the world of publishing where there are multiple events going on: author Léonard Spiegel has his latest manuscript turned down by his longtime friend and publisher Alain Danielson, a debate of ebook versus print in the publishing house, plus relationship issues between the two men and their wives.
Seeing how this website originated as a book blog before I made the decision to have it encompass both film and literature, a film taking place in the publishing world sounded interesting. And yet, it fell flat. The characters were one dimensional and the plot jumps around between the three sub-plots of rejecting the manuscript, debating print versus digital, and the relationships of the two main couples. While there are bits of wit and sarcasm sprinkled into the dialogue around causing a good laugh, the rest of the film was, for lack of a better word, a bore. It was one I could sit through and I wasn't sitting there waiting for it to be over, but I've seen films that did a better job at keeping me in my seat and waiting to see how the story unfolds. The drama, outside of the relationship issues, isn't all that exciting or of interest. It's not really made apparent to the viewer why we should care about their personal lives outside of the publishing world. On the plus side, Juliette Binoche (Selena) and Nora Hamzawi (Valérie) were fantastic at their roles, handling what their unfaithful husbands brought to their lives. I found the two women and the characters they played to be far more enjoyable than their male partners.
Related Posts