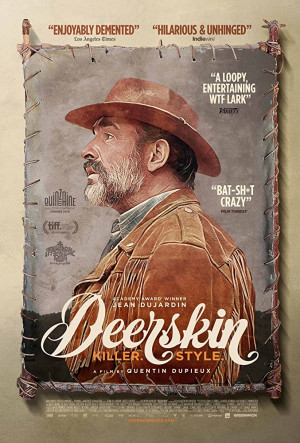 Title:
Deerskin (Le daim)
Released:
June 19, 2019 (France) | May 2020 (Online Streaming)
Genres:
Comedy
,
Horror
Length:
1 hour, 17 minutes
Links:
IMDB
|
Wikipedia
My Rating:

In this black comedy of middle-aged masculinity gone awry, Academy Award winner Jean Dujardin (The Artist) is a recent divorcee who becomes obsessed with a vintage fringed deerskin jacket that begins to exert an uncanny hold on him. Set in a sleepy French alpine village, he falls into the guise of an independent filmmaker and befriends a trusting bartender and aspiring editor (Adèle Haenel, Portrait of a Lady on Fire) who becomes his collaborator on a movie that will document a surprising new goal he sets himself.
There's no exact word in the English dictionary that describes just how absurd Deerskin is, and that's what makes it so great. Recent divorcee Georges (Jean Dujardin, The Artist) spends thousands of dollars on a 100% deerskin jacket, and it begins to consume his identity. Either suckered in to being paid so much or just because, the seller of the jacket also tosses in a free digital video camera for Georges. He leaves town to be alone for a while, settling in a quiet village and manages to board up in a hotel with no money to his name. He leaves his wedding ring at the desk as an item of value, promising he'll be able to pay for his room shortly which makes me chuckle, as the ring has no real value to him anymore.
It's at a bar in town one evening that he lies his way into being a filmmaker as his job, to which his bartender Denise (Adèle Haenel, Portrait of a Lady on Fire) reveals to him she's a smalltime film editor. Backed into a corner with his lie, Georges offers her a role as editor in the film he came to town to shoot for while the rest of his nonexistent crew is busy shooting scenes in Siberia — and also makes sure he stops at the local bookstore to get a book about filmmaking.
From there, things get hilariously weird: Georges becomes more and more obsessed with his jacket, this new-founded deerskin identity being the only thing that defines him. As this obsession further consumes him, it becomes his life goal to ensure he is the only one in the world with a jacket, acting in a way that almost parodies serial killers to strip his victims of their coats. It's a mixture of the strangeness and uniqueness that makes this film so fun.
Related Posts