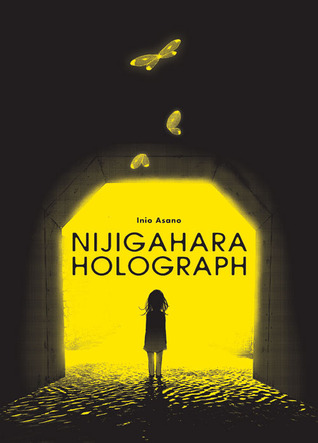 Title:

Nijigahara Holograph

by Inio Asano
Published by
Fantagraphics
Released:
March 19, 2014
Genres:
Comics & Graphic Novels
,
Manga
Length:
200
Format Read:
Hardcover
Links:
Goodreads
|
Amazon
|
Barnes & Noble
|
ThriftBooks
My Rating:

Butterflies ominously proliferate as children whisper rumors of a mysterious creature lurking in the tunnel behind the school. To appease its wrath, they decide to offer it a sacrifice--a human one. But this is only the beginning of Nijigahara Holograph, which takes place in two separate timelines and involves the suicidal Amahiko; Kohta, the lovestruck bully; their teacher Miss Sakaki, whose heavily bandaged face remains a mystery; and many more brothers, sisters, parents, co-workers, teachers, aggressors, and victims who are all inextricably linked to one another. Ten years later, all will have to face what they've done or suffered through--and maybe the end of the world.

Nijigahara Holograph--complex, challenging, and elliptical--was named one of the most anticipated new manga at Comic-Con International: San Diego. Hailed as a voice of the current generation in Japan, Inio Asano, whose Solanin was nominated for Eisner and Harvey awards (and was made into a feature film), delves into David Lynchian territory with this psychological horror story.
Back in April when I was visiting my girlfriend who lives in Michigan, we went on one of our usual Barnes and Noble trips. There I purchased two mangas: the first half of Orange, and Goodnight Punpun by Inio Asano. I later searched my library's catalogue to see if they had any more of Inio Asano's works, and they did – Nijigahara Holograph. I went ahead and put a request on it.
I really enjoy Inio's art style, it's really unique and detailed. You can tell a lot of time is spent putting thought into how each panel should look. I haven't read all of Goodnight Punpun yet, but that one I'm enjoying so far. As for Nijigahara Holograph, I just found it nothing but confusing and even once finishing it I really did not have much of a grasp of what I had even read.
The story takes place in two separate timelines, switching without warning. You could kind of tell when it jumped from one timeline to another, but the constant jumping around and the fact that there is only so many words due to it being a comic, it made it incredibly hard to follow what exactly is going on. It's like when someone's talking to you and you're focused on something else. You hear them and what's said, but it doesn't really register – it goes in through one ear and comes out the other rather than being embedded in your brain. Nijigahara Holograph is just like that. I read it but what happened just never stuck with me. It's a messed up story though, that much I was able to grasp. There is a brief and unexpected rape, plus it involves human sacrifice and even a suicidal boy.
Luckily online you can find notes that better explain what happens in the story. If you're curious, it can be found here. Here's to hoping I finish reading my copy of Goodnight Punpun with different thoughts than I do on this manga by Inio.
Related Posts