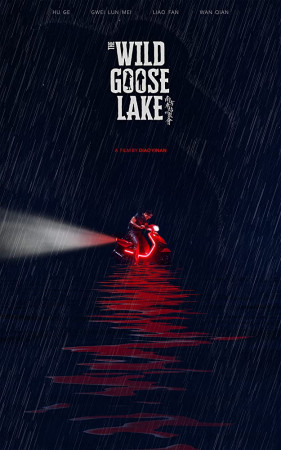 Title:
The Wild Goose Lake (南方车站的聚会)
Released:
December 6, 2019 (China) | March 20, 2020 (USA)
Genres:
Crime
,
Drama
,
Thriller
Length:
1 hour, 53 minutes
Links:
IMDB
|
Wikipedia
My Rating:

When small-time mob leader Zhou Zenong accidentally kills a cop, a dead-or-alive bounty is placed on his head, forcing him on the lam from both the police as well as dangerous gangsters out for the reward. Hiding out at the Wild Goose Lake, Zhou becomes entangled with a beautiful, enigmatic woman, who has mysterious intentions of her own.
It's hard to believe I'm nearing a year since I saw Long Day's Journey Into Night, another Chinese noir film. Ironically, just like Long Day's Journey, I too was unable to attend the screening of The Wild Goose Lake at the Philadelphia Film Festival back in the fall. When I saw the folks at Film Movement were streaming it online as part of their virtual cinema as of last week, I made sure to pay for a virtual ticket so I could catch what I had previously missed.
When I initially saw the above trailer, I was intrigued: no dialogue, a beheading, and the accompanying soundtrack of Boney M's "Rasputin". Since I first saw that trailer last fall a more "proper" one with dialogue and more scenes from throughout the film has been released, but sometimes it's fun to switch things up with seeing a different sort of trailer and deciding to watch the film based on that.
The Wild Goose Lake is Yi'nan Diao's fourth film, marking his latest film since 2014's Black Coal, Thin Ice, another crime drama. In this particular film we have gangster Zenong Zhou on the run from police after killing a police officer, half on purpose, half on accident. While it's a manhunt over the next few days as police work to capture him, it's not a fast-paced film. It will speed up at times when needed, other times taking a step back and letting the plot guide itself. Naturally, there is plenty of rain and it's almost never daytime. While running from police Zenong comes across Shujun Yang, a prostitute, and the work together to hatch a plan, although she has unspoken motives of her own.
Although the film sometimes takes a step back from all the nonstop action and lets the characters do the talking, both verbally and nonverbally, there is still plenty of high-action moments scattered. Director Yi'nan Diao seems to find the perfect balance between action and letting things cool down a while, while also treating the viewer with a multitude of great shots and accompanying soundtrack. While Zenong Zhou's tactics to sliver away from the attention of police works for a while, naturally eventually the law catches up with him. It's a worthwhile two hours to spend watching him on the run, not to mention the cast is great with their poker faces, doing a wonderful job of acting emotionless through the film. While it's not a top choice for me, the film is still one I would recommend to expose yourself to a variety of Chinese cinema.
Related Posts