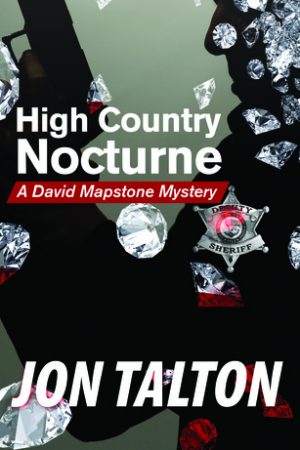 Title:

High Country Nocturne: A David Mapstone Mystery

by Jon Talton
Series: David Mapstone #7
Published by
Poisoned Pen Press
Released:
June 2nd 2015
Genres:
Fiction
,
Mystery & Detective
Length:
317
Format Read:
ARC
Links:
Goodreads
|
Amazon
|
Barnes & Noble
|
ThriftBooks
My Rating:

Disclosure: I received a complimentary copy of this book from the publisher. This does not affect my opinion of the book in any shape or form.
A cache of diamonds is stolen in Phoenix. The prime suspect is former Maricopa County Sheriff Mike Peralta, now a private investigator. Disappearing into Arizona's mountainous High Country, Peralta leaves his business partner and longtime friend David Mapstone with a stark choice. He can cooperate with the FBI, or strike out on his own to find Peralta and what really happened. Mapstone knows he can count on his wife Lindsey, one of the top good hackers in law enforcement. But what if they've both been betrayed? Mapstone is tested further when the new sheriff wants him back as a deputy, putting to use his historian's expertise to solve a very special cold case. The stakes turn deadly when David and Lindsey are stalked by a trained killer whose specialty is suiciding her targets. In depressed, post-recession Phoenix, every certainty has become scrambled, from the short hustle of the powerful real-estate industry to the loyalties Mapstone once took for granted. Could Peralta really be a jewel thief or worse? The deeper Mapstone digs into the world of sun-baked hustlers, corrupt cops, moneyed retirees, and mobsters, the more things are not what they seem. Ultimately, Mapstone must risk everything to find the truth. High Country Nocturne is an ambitious, searing, and gritty novel, with a fast-paced story as hard-edged as the stolen diamonds themselves.
In the seventh David Mapstone mystery, diamonds are stolen and the main suspect is David Mapstone's business partner and friend Mike Peralta, a private investigator who is the former sheriff of Mericopa County. Mapstone doesn't know what to think. Is he innocent, or did he go rogue? And who is the hitwoman hunting him down, whom he dubbed Strawberry Blond? Are they all working together, or is everybody after the diamonds?
The summer months are now here, and along with that comes a slew of many book publications. If you're a fan of mystery, High Country Nocturne is one you don't want to miss out on. This novel has it all: jewel thieves, mobsters, a hitwoman, corrupt cops, the FBI, you name it. Add in the Arizona setting and there's a lot of ground that David Mapstone has to cover in order to solve this mystery.
The one thing I really like about Jon Talton's writing style is rather than just telling the story of the mystery as it's unraveled and solved by the protagonist, he also tells the story of the setting, specifically Arizona. He does not go off on a tangent to talk about it, it's seamlessly wrapped into the story and flows great. Mapstone is a history fan just like me. Not only that, but he is also a fan of trains. Never have I related to a character as much as him!
Talton writes in such a way that you keep turning the page more, both for the plot and also for the history. He's written yet another intriguing novel, making this one a success in my book. The book may be a work of fiction, but there's definitely a few things you can learn about Arizona from this book.
Related Posts