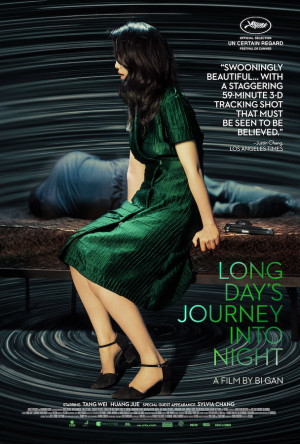 Title:
Long Day's Journey Into Night (2018)
Released:
December 31, 2018
Genres:
Drama
,
Mystery
Length:
2 hours, 13 minutes
Links:
IMDB
|
Wikipedia
My Rating:

Bi Gan follows up his knockout debut, Kaili Blues, with this noir-tinged stunner about a lost soul (Jue Huang) on a quest to find a missing woman from his past (Wei Tang, Lust, Caution). Following leads across Guizhou province, he crosses paths with a series of colorful characters, among them a prickly hairdresser played by Taiwanese superstar Sylvia Chang. When the search leads him to a dingy movie theater, the film launches into an hour-long, gravity-defying 3D sequence shot that plunges its protagonist—and us—into a labyrinthine cityscape. China's biggest arthouse hit of all time, the film took in more than $40 million dollars in its opening weekend at the domestic box office.
Long Day's Journey Into Night was a film I was interested in seeing at the Philadelphia Film Festival last October, before it even debuted in China, but unfortunately I was unable to attend its screening. Thankfully, the film is currently having a limited theatrical run, so I was able to go see it last week. Unfortunately I was unable to see it in 3D, as only a handful of theaters in the states were showing the 3D part in 3D — I was stuck to 2D. Thankfully it is coming to Blu Ray courtesy of Kino Lorber in August, so those who missed the chance to witness the final hour of the film in 3D like myself will be able to in a few months' time.
When I went to see the film, I completely forgot about how the final hour was shot in a continuous 3D take when Luo Hongwu (Huang Jue) goes to a movie theater and puts on a pair of his own glasses to watch the film. Shame on me for forgetting about such a crucial part on what makes the film so unique. The film is a lot to take in all at once. The first 70 or so minutes are scattered, giving a noir-like feel by presenting various bits of backstory about Luo's childhood sidekick Wildcat who was murdered. The film also shows Luo returning to his hometown and finding a faded photograph of a woman that was hidden inside his father's old clock. As he tries to find her, her identity keeps shifting. The audience does not truly know what is imaginative or a memory.
Fast forward to the hour-long continuous take, it is a quite a marvel and cinematic experience. From a ping pong match to a slow plunge down a cliff from a cable-car, to wandering around a festival late at night, one can only imagine how difficult such a camera setup for such a long take, not to mention how many takes to get it right.
With its non-sequential plot-line for the first hour containing scattered bits of information presented to the viewer where not everything is clear, this is not a film for those expecting a simple movie. Rather, those who enjoy artistic nonconventional expression-type films are going to find Long Day's Journey Into Night to be better suited for their cinematic needs. If you have the opportunity to see it in 3D, do so for the full experience. I missed Bi Gan's Kaili Blues (2015), which does similar with a shorter (and 2D) continuous take, so that is next up on my to-watch list. It'll be interesting to see what Gan comes up with next.
Related Posts