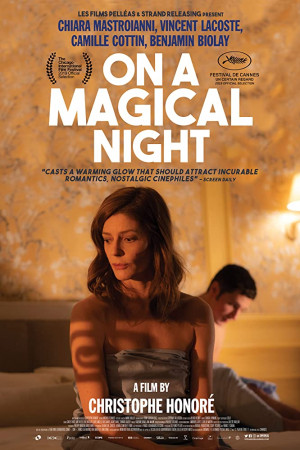 Title:
On a Magical Night (Chambre 212)
Released:
October 9, 2019 (France) | May 8, 2020 (USA Streaming)
Genres:
Comedy
,
Drama
Length:
1 hour, 26 minutes
Links:
IMDB
|
Wikipedia
My Rating:

In this playful new film from writer-director Christophe Honoré, we meet Maria, a woman with a wandering eye. After a heated argument with her husband of 20 years, she spends the night in room 212 of the hotel across the street from their home. There, she has a bird's eye view of her apartment, her husband, and her marriage. In this comic romp, she confronts her past lovers and relationships on one magical night, fantasizing about the lives she could've lived and wondering if she's made the right decisions.
It's not uncommon to dwell on the past, the would've could've should'ves. What is a tad more uncommon, however, is to think about past lovers and what things could've turned into with them while you're married That's exactly what we see with Maria (Chiara Mastroianni, who was in another film I reviewed recently, The Girl with a Bracelet). After her husband Richard (Benjamin Biolay) sees some texts on her phone from a man named 'A' about having enjoyed their sleeping together, he confronts her about her infidelity.
There are no tears, no shouting matches, no large tantrums between the couple. Richard just wants to know the truth. While Maria admits to it, she shrugs it off, telling Richard it was merely a little bit of fun that's now over, so he has nothing to worry about. She also tries to justify her actions by saying it's a normal part of marriage and surely he's done it too, which is untrue. Maria makes it clear through her words and body language she feels no remorse for her actions. Richard says the two have some thinking to do, closing the bedroom door behind him. Maria holes up for the night in a hotel across the street, room 212, which is worth noting that's the literal translation of the film's native title versus the altered American title.
While in the hotel, Maria reflects on all her past lovers in a dream-like sequence. You see similar across the street as Richard is shown with his one previous lover, a woman who was in his life before he married Maria. With Maria having a wandering eye throughout their marriage, many thoughts and scenarios are being played out as she weighs all the pros and cons of what she's done and who she's been with. In addition to past lovers filling her hotel room, she's also greeted by other ghosts such as her grandmother and great grandmother. The whole ordeal feels like a modernized version of A Christmas Carol, but instead the protagonist takes a look at infidelity and past lovers, which which comparison is only further fueled by the snow that appears in the street overnight.
There are two aspect of On a Magical Night that I found to be commendable. I enjoyed the camera work and its aerial shots as the scenes seamlessly shifted between rooms, really making the bird's eye view come to life. The themes of the rooms and its colors further fueled the excellence when it came to the set design. Additionally, I found its soundtrack containing names such as Barry Manilow, Bobby Vinton, and Caterina Valente to be excellent selections to accompany the motion picture. It's a film where facial expressions and body language say some of the things the characters leave unspoken. It's a story of misplaced nostalgia that delivers a satisfying ending after the magical night comes to and end but also sometimes feels like a softcore porn where a couple talks about and examines their feeling.
Related Posts