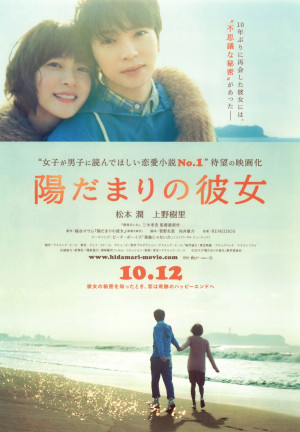 Title:
Girl in the Sunny Place (陽だまりの彼女/Hidamari No Kanojo)
Released:
October 12, 2013
Length:
2 hours, 8 minutes
Links:
IMDB
|
Wikipedia
My Rating:

A salesman named Kosuke Okuda happens to meet Mao Watarai, a friend from his middle school days. Back then Mao was bullied, but now she is an attractive woman. Kosuke and Mao fall in love and decide to marry, but Mao has a secret.
It's a story that's all too familiar: two people meet, fall in love, and have a perfect life. There's always another part to this type of story, however, typically a secret that threatens the relationship or one of the two becoming very sick. That's exactly what we see in Japanese director Takahiro Miki's The Girl in the Sun, also known as The Girl in the Sunny Place. The film, while falling into that cliche, does offer a little more in terms of twists and also has some great shots of the landscape.
Kosuke (Jun Matsumoto) works for an advertising firm. He's been single for a while, to the point his brother is teasing him that he needs to meet someone. One day at work when meeting with another company to discuss a potential ad deal, he's reunited with Mao (Juri Ueno), who works at the firm they're currently in talks with. She's someone he was friends with in middle school before he moved away and the two lost contact. The two instantly recognize each other and sparks begin to fly. While the two make sure they continue to behave professionally in the corporate environment, outside of work the two begin to develop a relationship. Through flashbacks, their backstory is told. Mao's a foster child who came to Kosuke's school. Even though back then she was viewed as dumb as bricks and constantly bullied and harassed by classmates, Mao is befriended by Kosuke. He stands up for her and befriends her, tutoring her so she can do better in school. He eventually moves away and the two lose contact until they're reunited years later in the meeting.
Now that the two are older, and Mao admittedly much prettier now that she's grown up, Kosuke takes a liking to her, and the feelings are mutual. It's evident they've fallen head over for heels for each other, so the camera shifts away from focusing on their work lives and instead on the day to day intricacies of their relationship. Things grow serious quickly, with the two talking about eloping. When Kosuke meets Mao's father, an intimidating ex-cop, he tells him another piece of Mao's backstory. He tells him how she was a foster child they took in and that she has no recollection of memory before middle school. He warns Kosuke that something could happen to her again, and he needs his word that he'd be able to handle it. Kosuke agrees to the stipulation, and while hesitant, Mao's father accepts his answer and more or less gives Kosuke his blessing and welcomes him into the family.
The relationship between the two lovers progresses, involving marriage, moving in together, and even talks of perhaps having a child at some point. The relationship seems too perfect and flawless. As the viewer, you just know it's only a matter of time until something that'll tear the two apart is going to happen. Sure enough, it does. What starts as an innocent comment from Kosuke to Mao about her looking thinner takes a turn for the worse as she continues to lose weight and experiences other symptoms. There's more to it, but Kosuke doesn't get answers from Mao. Instead, he has to go out and seek the truth and find out what she's been hiding from him.
Watching it's fun watching the relationship between Kosuke and Mao progress, it feels partially ruined because deep down you know from the start something dramatic is going to happen that'll pull them apart. Sure enough, right on cue, such a thing happens. It doesn't pull them apart per se, but one of the two does bail and leaves the other one heartbroken. Without wanting to reveal too much in terms of the twist, the film feels a lot like a mix of the 2016 Japanese film If Cats Disappeared from the World combined with the recently released anime film A Whisker Away. While a decent film, and I particularly enjoyed the various shots of Japan (especially all the trains!), it offers little that's new and innovative in this kind of film. The secret that breaks the relationship isn't all that obvious, but you know something is brewing. The film also has a catchy soundtrack, mostly composed of the Beach Boy's "Wouldn't It Be Nice". The film's shots and its story are warm, with the sun shining just like its title. At the end of the day, however, it's the predictability of the film that outweighs the cuteness of the love story.
Related Posts