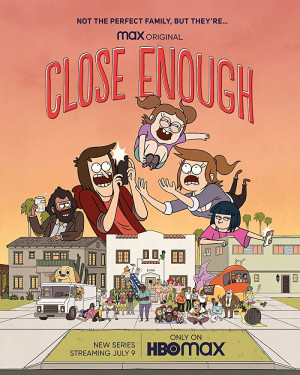 Title:
Close Enough
Released:
2020
Genres:
Animation
,
Comedy
,
Drama
Length:
22 minutes (two 11-minute episodes) each
Links:
IMDB
|
Wikipedia
My Rating:

Close Enough is an animated comedy series about a motley crew of housemates living on the east side of Los Angeles: married couple Emily and Josh, their five-year-old daughter Candice, and their divorced best friends Bridgette and Alex. Looking to make the leap from carefree twenty-somethings to adulting pros, Josh, Emily, and their BFFs are navigating that transitional time in your 30s when life is about growing up, but not growing old. It's about juggling work, kids, and latent dreams - while dodging time-traveling snails, stripper clowns, and murderous mannequins. Their life may not be ideal, but for now, it's close enough.
I can't believe this September marks ten years since J.G. Quintel's Regular Show series debuted on Cartoon Network. Eight seasons and a movie later, that show wrapped up a few years ago and now Quintel is back with a new show, this time aimed at older audiences. The series was first announced in 2017 and was originally going to be a part of an animated block on TBS. Those plans fell through when a show from Louis C.K. that was also going to be part of the block had its production shut down after his sexual misconduct allegations. Fans were left wondering if Close Enough was ever going to see the light of day, and it finally, debuting on HBO Max earlier this month.
A fun fact about Close Enough is that it was originally planned to be single twenty-two-minute episodes, but then later got reworked into two eleven-minute episodes instead — with the exception of episode eight, "The Canine Guy", which goes with the longer length format to tell its story. A minor annoyance about the series is there are brief fade-outs/fade-ins in about halfway into each eleven-minute episode like they're signifying a commercial break would be there. It feels out of place, especially since this show hasn't been on commercial-filled cable.
The general premise of the show follows Josh and Emily, as well as their two (divorced) best friends, Alex and Bridgette, as they deal with the adult lifestyle. They don't want to give up the fun they had in their younger years, but they also have more responsibilities now like bills and a child. Close Enough does a fantastic job of portraying the adult desire to have fun while staying (mostly) responsible in a comedic way. Like Regular Show, Close Enough contains plenty of goofing off and creatures from out of this world, such as a time-traveling snail and a talking dog. Being an adult animated comedy, there's also plenty of hilarious jokes, some dirty, some not. Fans of Regular Show will also be pleased to see multiple hidden easter-egg references to the series throughout the show. I'm usually not one to watch adult cartoons, but Close Enough is a fun exception with its crazy scenarios and likely soon to be relatable adult lifestyle. While there are only eight episodes at the moment, I'm hopeful for more as it's enjoyable to watch and pass the time with some laughs.
Related Posts