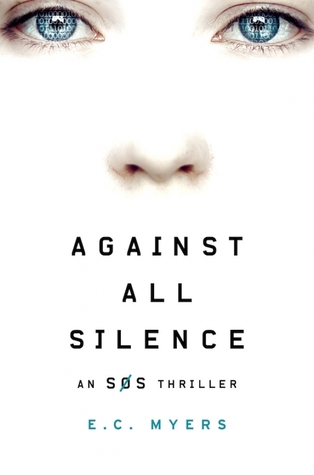 If you've been reading Devin's Book Hub for a while now, you may recall me reviewing The Silence of Six by E.C. Myers about a year and a half ago, after winning a copy of the novel via a Goodreads giveaway. I was fortunate enough to receive an advance copy of the upcoming sequel, Against All Silence, which will be available next week.
Just like the first book in the series, it is jam packed with action. This time, however, the stakes are even higher. The story takes place where the previous one ended: after everything that went down with Panjea, Max went on a trip to France to get away from the media and let things cool down for a bit.
While waiting in line at the airport to go home a few days before Christmas, he decides to check his private email, which is where he sees a several day old email from his friend Penny, one of the members of his hacking group, Dramatis Personai. She says that she is in Berlin and would like him to meet her new friend, Ada Kiesler, who is a whistleblower. Instantly I thought of Edward Snowden and his whistleblowing, which I'm guesssing heavily influenced Myers when writing this.
Read more