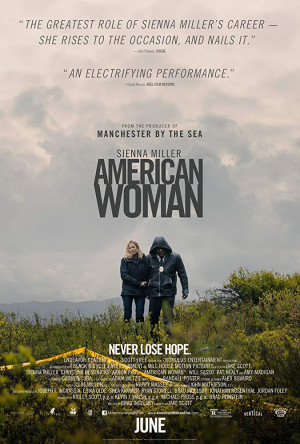 Released:
June 14, 2019
Genres:
Drama
Length:
1 hour, 52 minutes
Links:
IMDB
|
Wikipedia
A woman raises her young grandson after her daughter goes missing.
When I first saw the trailer for American Woman, I thought "woah, I really need to see this". I went to the theater a few days later in a pretty good mood, but by the time I left the theater I felt pretty somber after seeing this film.
Debra Callahan (Sienna Miller) is a single mother who is occupied with raising her teenage daughter Bridget (Sky Ferreira) as well as Bridget's infant son, Jesse. Debra lives across the street from her sister Katherine (Christina Hendricks) as well as her husband Terry (Will Sasso). One night Bridget goes out with Tyler (Alex Neustaedter), whom she has an on and off relationship with and is the father of Jesse, but never returns by the next morning. Of course, Debra suspects Tyler.
While Bridget's disappearance is the ultimate happening in the film, that is not the main focus of the film. Instead, if focuses on Debra as she grows older and continues to cope with Bridget's disappearance since she's never been found. The family is dysfunctional: lots of screaming, for one. Debra's boyfriends post-Bridget-disappearance are all pieces of shit, to not put it nicely. They can be abusive and controlling. The film weaves between dating, to even marrying one, and thus Bridget's disappearance almost feels like an afterthought at this point. Yes, Debra still misses her daughter, but she can't do much about it. Life goes on whether or not you want it to. However, (and some spoilers are ahead) the scene where Bridget's remains are finally located and Debra goes to the area, is rather heartbreaking. It shows her reaction to seeing the grave. There's no dialogue, only music while both Debra and the viewer and filled with emotion. Could you imagine what it must feel like to go through it all over again? First when your daughter disappears, and again all those years later when she's finally found…
As touching as the film was in some areas, it wasn't a film I highly enjoyed. I'm still glad I saw it, and it's touching, but because the disappearance of Bridget more or less feels like an afterthought as the film is mostly chronicling her mother's love life after the fact until her grave is discovered, it falls a little flat for me.
Related Posts