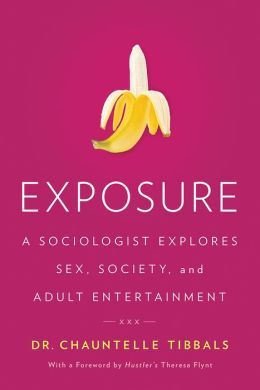 Title:

Exposure

by Chauntelle Tibbals
Published by
Greenleaf Book Group
Released:
July 7th 2015
Genres:
Nonfiction
,
Pornography
,
Social Science
Length:
192
Format Read:
eARC
Links:
Goodreads
|
Amazon
|
Barnes & Noble
My Rating:

Disclosure: I received a complimentary copy of this book from NetGalley. This does not affect my opinion of the book in any shape or form.
"I was going to speak to the porn industry, both because it was made up of people who deserved to have their voices heard... and because no one else had the guts to."

In Exposure: A Sociologist Explores Sex, Society, and Adult Entertainment, Chauntelle Tibbals exposes readers to one of the most mysterious businesses and significant subcultures shaping our modern world – porn. Adult entertainment is a part of us – it's a hugely influential component of our culture. Like it or not, it partially shapes who we are as a society. And we as a society help shape it right back. Porn takes on our sexual desires and dreams, often in ways that we're uncomfortable with.

Tibbals takes us through her own process – from precocious Southern California girl to marginalized sociology Ph.D. student to renowned adult industry expert. She shares her adventures and observations – often hilarious, occasionally heartbreaking, and always enlightening – in order to give us a nuanced look at a community that's simultaneously influential and reviled, powerful and stigmatized. From the altered reality of pornographic film sets to wildly inappropriate fans at trade shows, Tibbals has seen it all. And she will be the first person to tell you: the adult industry is nothing like you'd expect. It's a world that deals in sex and is shrouded in mystery but is ultimately no different from any other.
I saw Exposure listed on NetGalley, and, being a guy, of course I was interested. A book about sex? Sweet! I'm all for learning about the porn industry. After all, sex sells, and yet it's such a taboo subject in our culture. Many people do it, and yet it's still frowned upon, talked in secret, and misinformation (or lack of information) is given to teenagers. So, Chauntelle Tibbals set out to explore the adult entertainment industry.
The book reads somewhat like a memoir, as Dr. Tibbals recalls what led her to investigate such a taboo topic and then goes on about her experiences, or, put fancily, "the sociocultural significance of adult entertainment as it relates to law, media, and gender." Although interesting, (and infrequently a little humorous) I felt that the book failed to do more than scratch the surface on some topics – more on that in a little bit. But for what this book actually is, I mostly enjoyed it.
There is no single topic about the adult industry that this book focuses on. It's a bit all over the place, beginning with how Dr. Tibbals got into this topic, to talking about the lives of some adults in the industry, then finishing off with some opinions.
The book did bring up some interesting things. One part I really got a kick out of because it's so true, is that people frown upon breast implants/any time of boob job. And yet we will correct our teeth with braces without giving it a second thought. A different body part, yes, but it's still being changed to our liking, just like some women will do with their breasts.
There's also some humorous parts, such as the author admitting to watching porn in an airport. Yes, reviewing porn is a job of hers, but still. Sheesh! I hope she at least had some headphones on.
Back to what I said earlier about scratching the surface. There's a lot of interesting topics that had so much potential but were instead quickly grazed over, such as piracy (tube sites). There was also the mentioning of the fact that nobody pays attention to the guy in porn. I felt that this topic could also have been explored in depth more. In comparison to the mentioning of tube sites/piracy this part was given a bit more of a writeup, recalling how a male porn star was unable to "finish", so, in addition to already being paid less than the co-starring female, he voluntarily took a pay deduction. Ouch.
Pornography is such a complex and broad subject that it's impossible to fit everything into a single book, but if we're just talking about the surface of things and intertwining personal narratives like this book does, I enjoyed it. I learnt a bit, such as that it's only legal to film porn for profit in California and New Hampshire.
Now let's hope my (quite religious) mother doesn't check my recent book reviews anytime soon, as she'd have a heart attack to know her oh-so-innocent son read a book about porn/sex. :-)
Related Posts