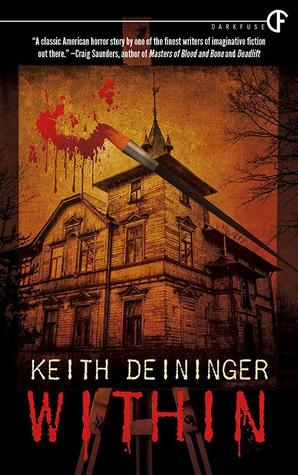 Title:

Within

by Keith Deininger
Published by
DarkFuse
Released:
May 5, 2015
Genres:
Horror
Length:
324
Format Read:
eARC
Links:
Goodreads
|
Amazon
|
Barnes & Noble
|
ThriftBooks
My Rating:

Disclosure: I received a complimentary copy of this book from NetGalley. This does not affect my opinion of the book in any shape or form.
Something's wrong in the eclectic mountain town of Mesa Rapids. Something's always been wrong. Sometimes its citizens behave in strange ways—sometimes to the point of violence...

When the wealthy and enigmatic art collector Harold Klimt moves into the long dilapidated house known as the Upshaw Mansion, most don't think twice about it. But when Mr. Klimt begins to throw lavish parties for the town's elite, Colin Thorne—a young, aspiring artist still grieving over the recent death of his childhood friend—sneaks inside the house to explore, suspicious something's wrong.

What he finds are the buried secrets of a town with a troubled history and something else…a plane of horror so vast that it threatens to alter reality.

Soon after that, Mr. Klimt offers Colin a job—painting a mural in the basement of the Upshaw Mansion. As Colin becomes more and more obsessed with the dark vision he is creating, the horror begins to bubble to the surface of not only his psyche, but the entire town.
Within by Keith Deininger had a promising synopsis, but unfortunately it fell a little flat for me. I did like the story, it was definitely eerie, and also quite morbid. However, I felt that it was lacking some plot. Sure, there was a plot, all stories need one – but I felt that it wasn't solidified enough, and the conflict the protagonists faced wasn't truly apparent until some ways into the story.
There is a handful of characters, introduced in the first few chapters as the book moves around each chapter to a different one. Eventually it's revealed the role they play and how they're all connected. The character development as alright for me, but felt a little so-so at times.
Horror wise, it was quite great and chill inducing. On more than a few occasions I started at the book with my eyes wide, muttering "WTF" to myself. Here's a few quick sentences to show you what I mean:
Phil Harding watched his wife pour bleach over the face of their sleeping one-year-old and then they split what was left in the bottle and drank it together.
The father of Zach's friend Bud got a call from the police telling him they'd found Bud's body. Bud's dad went directly to his workshop in the garage, flicked the table saw to life, and dropped his wrists over the spinning blade.
And Tom, one of Jeremy's friends, after seeing the sculpture in Colin's room, went home after the party the night before and chugged an entire bottle of antifreeze after scooping his eyeballs out with a cake knife.
As you can see, there's quite some morbid moments in the novel. I loved it. While the horror aspect was great, like I said before the plot's clarity and character development felt "meh" to me. I did enjoy the story, don't get me wrong. I just felt that the plot and characters could have been better, making things more clear and apparent.
Related Posts