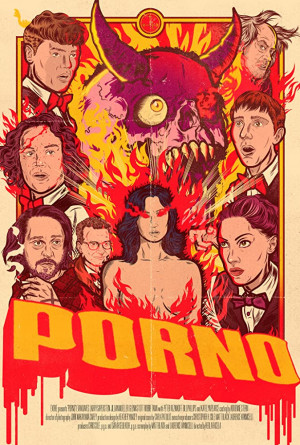 Title:
Porno
Released:
2019 (Film Festivals) | 2020 (Online)
Length:
1 hour, 38 minutes
Links:
IMDB
When five teen employees at the local movie theater in a small Christian town discover a mysterious old film hidden in its basement, they unleash an alluring succubus who gives them a sex education...written in blood.
Porno is definitely not a film you can look up without being questioned about it should someone be seeing it in your browser history. It's another film that I wanted to see at the Philadelphia Film Festival last year, but was unable to attend its screening. Back then there wasn't even a trailer to be found, so all I would've been able to go by was its interesting sounding synopsis! Even if that was the case back then, I still would've walked away from this film being thoroughly impressed by its ingenuity.
Just like the previous film I reviewed, Extra Ordinary, IMDB also categorizes this one as a horror-comedy, however, I wouldn't really say it's a comedy, at least in the normal sense most are used to. It does have its moments, and of course the plot is a little absurd, but that makes it all the more enjoyable. It's also not quite like a typical horror film where its sole purpose is to scare the viewer, either.
In Porno we're taken back to the year 1992. There's a group of five teenagers working at a movie theater in a small Christian town. It's clearly evident because one of the first scenes in the film is the beginning of the day's shift at the theater, so the owner, Mr. Pike (Bill Phillips), has everyone hand-in-hand to say a prayer. You also catch a small twinge of a southern accent in his character, further cementing it, at least stereo-typically.
The gang of five employees consists of four guys and a girl. They all have their own defining personality traits — for example, one is straight edge and one is labeled as a pervert.
Fast forward to the end of the night, and as the group is locking up the theater, a crazy man won't leave and runs into a wall, bringing to light a blocked off part of the theater that was boarded up and hidden behind a curtain. Down there are different films. Since the original plan was to watch a film together but it couldn't be decided between A League of Their Own and Encino Man, they decided to pick a random film off the shelves — it winds up being an artsy porno that soon turns disturbing and unleashes a succubus, or sex demon, into the theater. Over the course of the night, the five have to face their fears and judgments of others and work together to defeat the demon without giving in to its sexual temptations.
Porno was fun because it's not your typical horror film. The cast has some great chemistry and they all do an excellent job at executing their roles which only adds to the fun of the film. One may assume that with a title like this the whole film is going to be explicit, but that is far from being the case. I would say the film is more grotesque than outright sexually explicit between its weird artsy porno that unleashes the sex demon and the effect that the demon has on everyone, though sometimes sex and grotesque even become combined, making the film all the more squirming and interesting and keeping you hooked as the group endures the night with all its twists on what's really going on at this supposed Christian-town movie theater. For the first full-length feature debut from director Keola Racela, consider me impressed and looking forward to what else comes from him in the future.
Related Posts