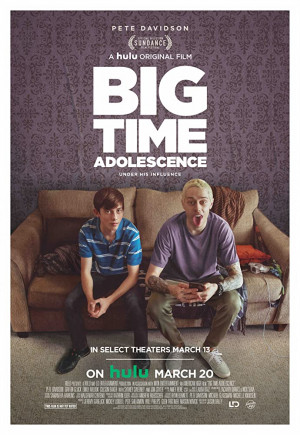 Title:
Big Time Adolescence
Released:
January 28, 2019 (Sundance) | March 13, 2020 (Hulu)
Links:
IMDB
|
Wikipedia
My Rating:

A seemingly bright and mostly innocent 16-year-old named Mo (Griffin Gluck) attempts to navigate high school under the guidance of his best friend Zeke (Pete Davidson), an unmotivated-yet-charismatic college dropout. Although Zeke genuinely cares about Mo, things start to go awry as he teaches Mo nontraditional life lessons in drug dealing, partying, and dating. Meanwhile, Mo's well-meaning dad (Jon Cryer) tries to step in and take back the reins of his son's upbringing.
Big Time Adolescence was a film I was going to see in theaters, but due to coronavirus, either it was pulled or I was unable to see it. (honestly I'm not sure if it was pulled, but if it was, it was due to things going south due to coronavirus) Luckily, regardless, its Hulu release was scheduled for being right around the same time as its theatrical run.
Starring Pete Davidson as Zeke (Saturday Night Live, Ariana Grande's ex boyfriend) and Griffin Gluck as Mo (Locke & Key, American Vandal) we're given a coming of age story. Mo is a 16 year old kid in high school, Zeke is a 23 year old going nowhere in life that Mo thinks as an older brother. The whole reason Mo and Zeke are friends? Zeke dated Mo's older sister, though the two broke up. Since Mo looks up to Zeke, the two have this special bond and connection. The two are always hanging out together, with Mo constantly blowing off his family to hang out with Zeke rather than his own parents. Naturally, because Zeke is a whole seven years older, and legal to do things such as purchase alcohol and be lax with sharing, Mo is introduced to the world of alcohol and other drugs, while still flying a bit under the radar by his parents.
Naturally, it's thought to be a little weird for a sixteen year old to be hanging out with a twenty-three year old. After all, with such an age gap, surely Zeke is moreso a cool babysitter that drinks, smokes weed all day, and doesn't have a job, right? Not quite…
Moe, trying to be as cool as he thinks Zeke is, wounds up caught in the wrong crowd. It's something we can all likely relate to, our parents warning us about falling into the wrong crowd, making bad decisions, going down the wrong path. Because Mo thinks of Zeke as this cool older brither (and surely it doesn't help that he's his only friend, the two are somewhat codependent on one another), he's not as apt to realize it until he finds himself in trouble as a result of his actions.
While a decent film, one with a handful of chuckles and good cast that clearly got along well even outside of the bond between Davidson and Gluck, other times it felt almost a little slow, and the first few minutes in and around the cast introductions felt almost confusing with its quick cuts to completely different scenes. I did myself having to rewind once or twice early on to make sure I didn't somehow miss anything. Gluck nailed the performance with the whole sixteen year old awkwardness and sometimes being unsure what to do, especially when around a girl, and taking the advice of "elders" as if it was advice from God. His father, played by Jon Cryer (Two and a Half Men) almost seemed a little too lax and chill at times, even when trying to be stern, at least coming from personal experience when comparing his reactions towards his son versus my parent's reactions towards me and my brother about certain things. While I didn't think of it in the moment, the fact that Mo wound up hooking up with a girl quite a bit older than him is a little bit weird, even if it's something many sixteen year olds may fantasize about. Nonetheless, it was a mostly enjoyable hour and a half.
Related Posts